UPCOMING HAZMAT TRAINING COURSE DATES 2022
| | | | | | | |
| --- | --- | --- | --- | --- | --- | --- |
| Name | Date | Time | Location | Available Spaces | Cost | |
| Hazmat Training | 14 - 17 October 2023 | 07:30 am - 05:00 pm | Chinchilla QLD | 12 | $895.00 | |
| Hazmat Training | 13 - 15 December 2023 | 07:30 am - 05:00 pm | Chinchilla QLD | 12 | $895.00 | |
HAZMAT COURSE DETAILS
Diamond Protection Training RTO No. 32273 provides nationally accredited training in safety, first aid, firefighting and rescue. Training can be conducted on your site or at one of our training facilities.
COURSE NAME
HAZMAT Training
NATIONAL UNITS OF COMPETENCY
PUAFIR324 – Render Hazardous Materials Safe
PUAFIR306 – Identify, Detect and Monitor Hazardous Materials at an Incident
PUAFIR308 – Employ Personal Protection at a Hazardous Materials Incident
PUAFIR210 – Prevent Injury
COURSE OVERVIEW
Our 3 Day HAZMAT Response course is designed for Emergency Response Teams who may be required to render Hazardous Materials Incidents safe. This training course is taught by experienced instructors who will take course participants through both theory and practical sessions to respond to on-site hazardous material emergencies. This Training course has a practical emphasis. Practical drills include: Splash or Gas Suits, Decontamination, Assessment of the incident scene, Rescue Procedures etc. This course makes use of various safety documentation such as: SDS's, HAZCHEM Sheets & HAG Sheets.
SUBJECTS
HAZCHEM & Dangerous Goods Legislation
Ensure compliance with legislation
HAZCHEM Incident Response protocols HAZCHEM Incident Response procedures
Safe Work Procedures
Personal Protective Equipment:
Splash Suits,
Gas Suits
Donning and Doffing procedures
Decontamination stations
HOT/WARM/COLD Zone establishment
HAZMAT Emergency Action Guides
HAG Sheets
TRAINEE MUST PROVIDE
Transport
Lunch
Appropriate clothing, closed in footwear
PRE-REQUISITES
Be at least 15 years of age.
There is a pre-requisite for this course PUAFIR207 – Operate breathing apparatus open circuit or MSMWHS216 – Operate breathing apparatus must be valid by the learner in order to enrol on this training.
DURATION
3 days
Start – 0730 – Finish – 1700 (extra time may be added for reassessment of students if required)
ASSESSMENT
Theory (40%) and practical (60%)
COURSE ENQUIRIES
Diamond Protection E: bookings@diamondprotection.com
P: 07 4665 5785
WITHDRAWAL AND REFUND POLICY
A non-refundable fee will be charged when attendance at a program is transferred and / or cancelled less than three working days before the program commences. No refund will be provided for non-attendance at a program without notice. Publicly available programs may be cancelled by Diamond when minimum participant numbers are not reached. Diamond will notify participants by telephone or email no later than three working days before the program is due to commence – a full refund will be given.
RTO
Diamond Protection Training. RTO Provider No: 32273
Course Locations
Brisbane | Chinchilla | On Client Site for Groups
Hazmat Training — Essential for many Workplaces
Hazardous materials, as their name suggests, are dangerous items that can cause damage and injury. Companies, therefore, need to ensure they have workers who have received the necessary hazmat safety training so they are able to deal with incidents and prevent serious problems.
The HAZMAT Training course is designed for emergency response personnel who may be called upon to handle hazardous materials. The training covers all aspects of handling hazardous materials and provides the knowledge, skills and abilities necessary for first responders to safely perform their duties in this environment. It is delivered by experienced instructors who provide both the technical knowledge and practical exercises so those workers are fully equipped for various situations. Read More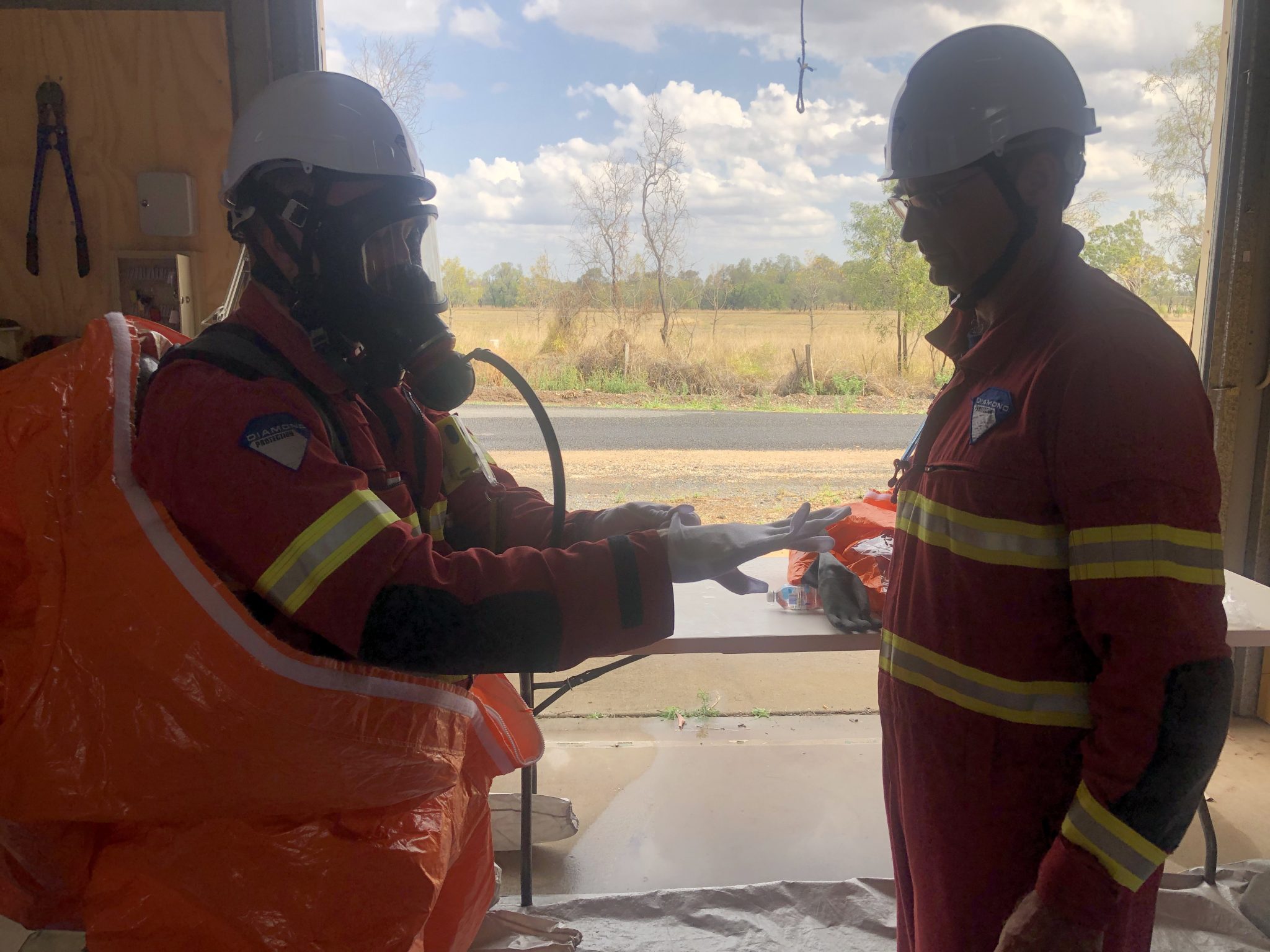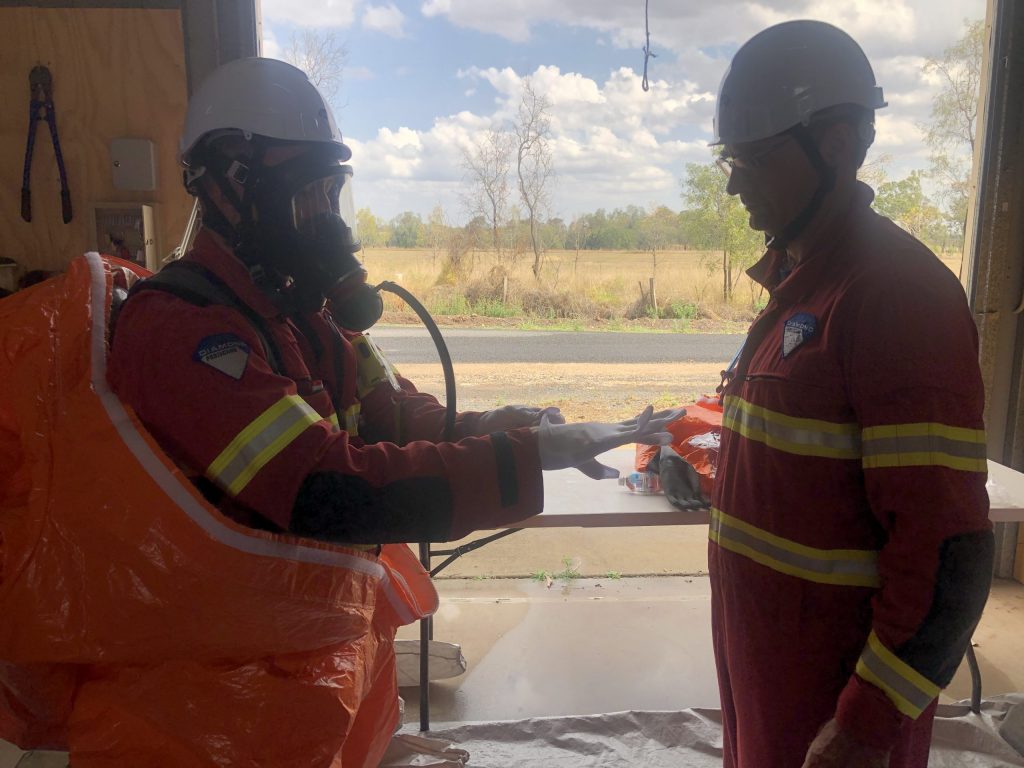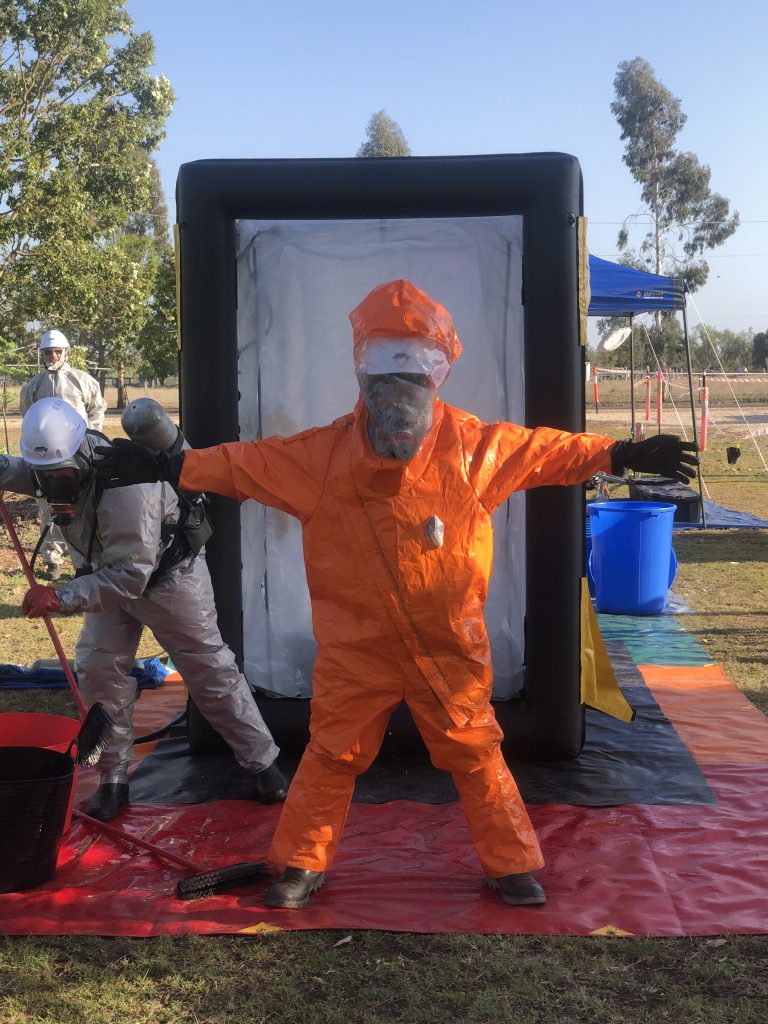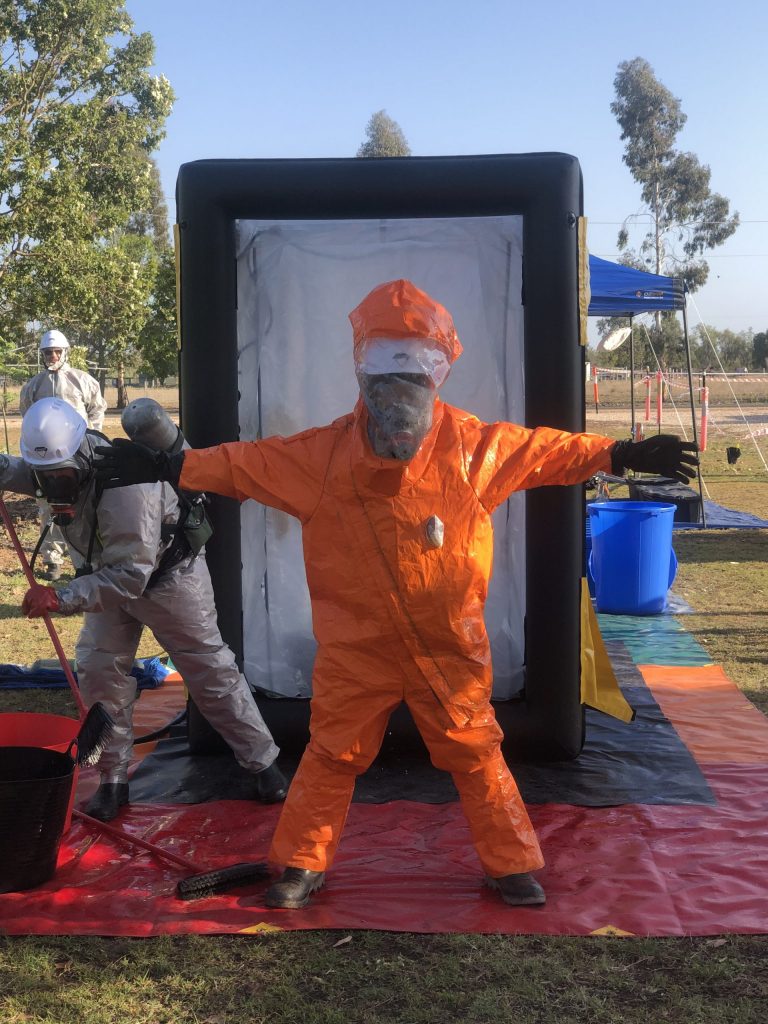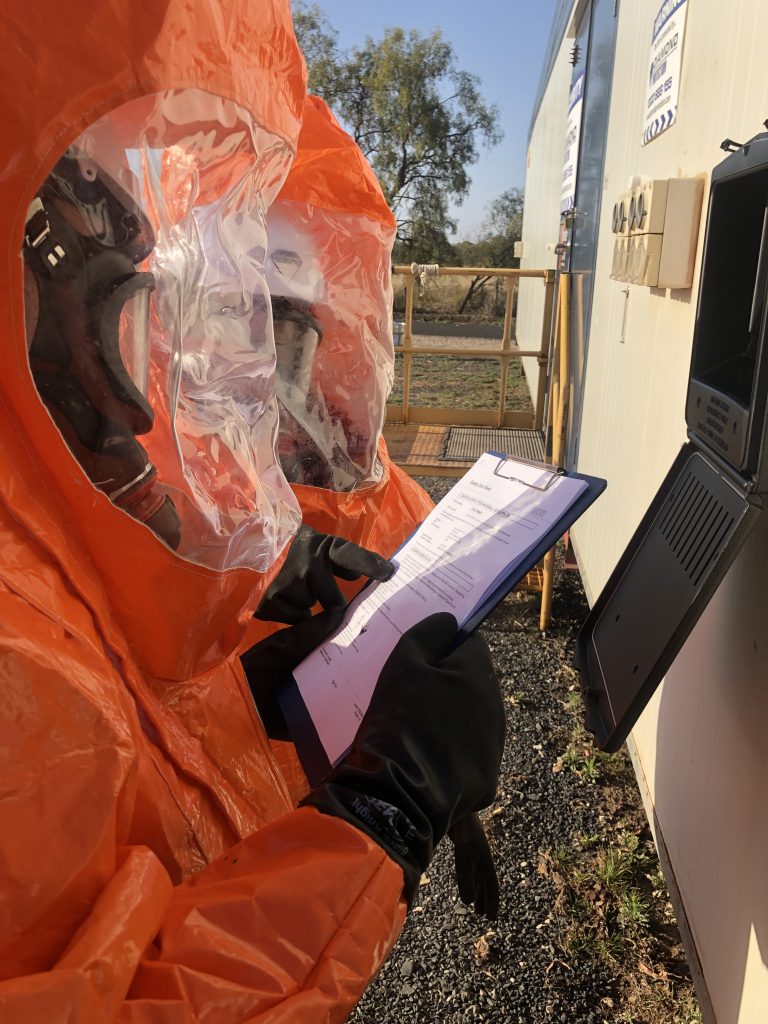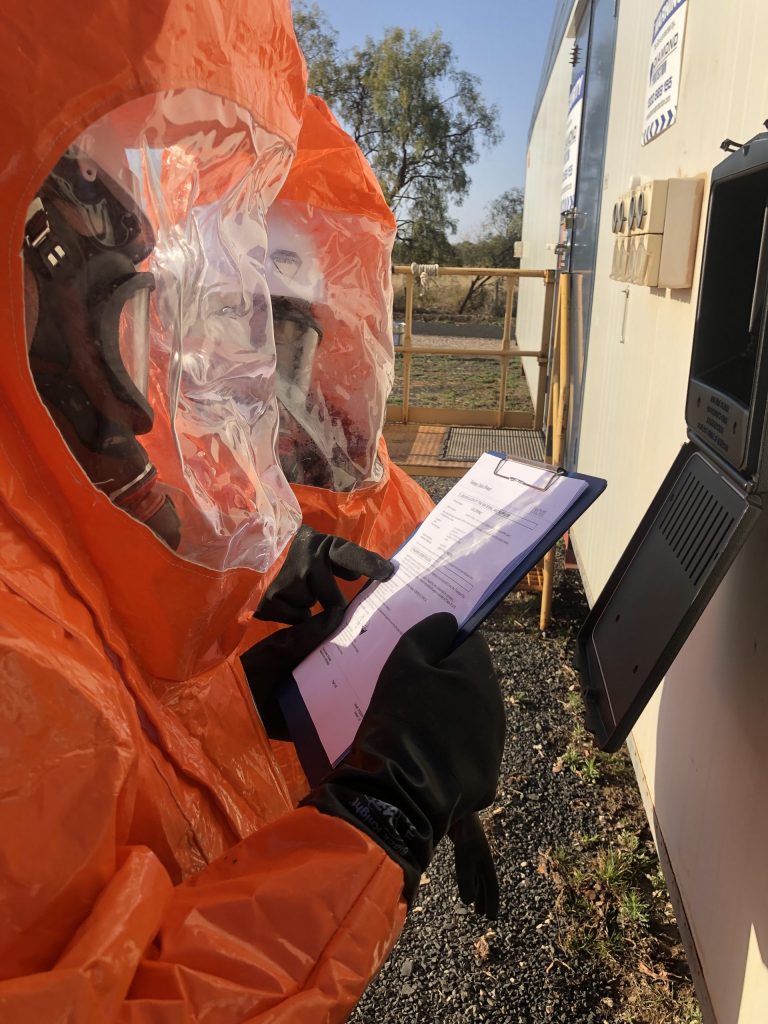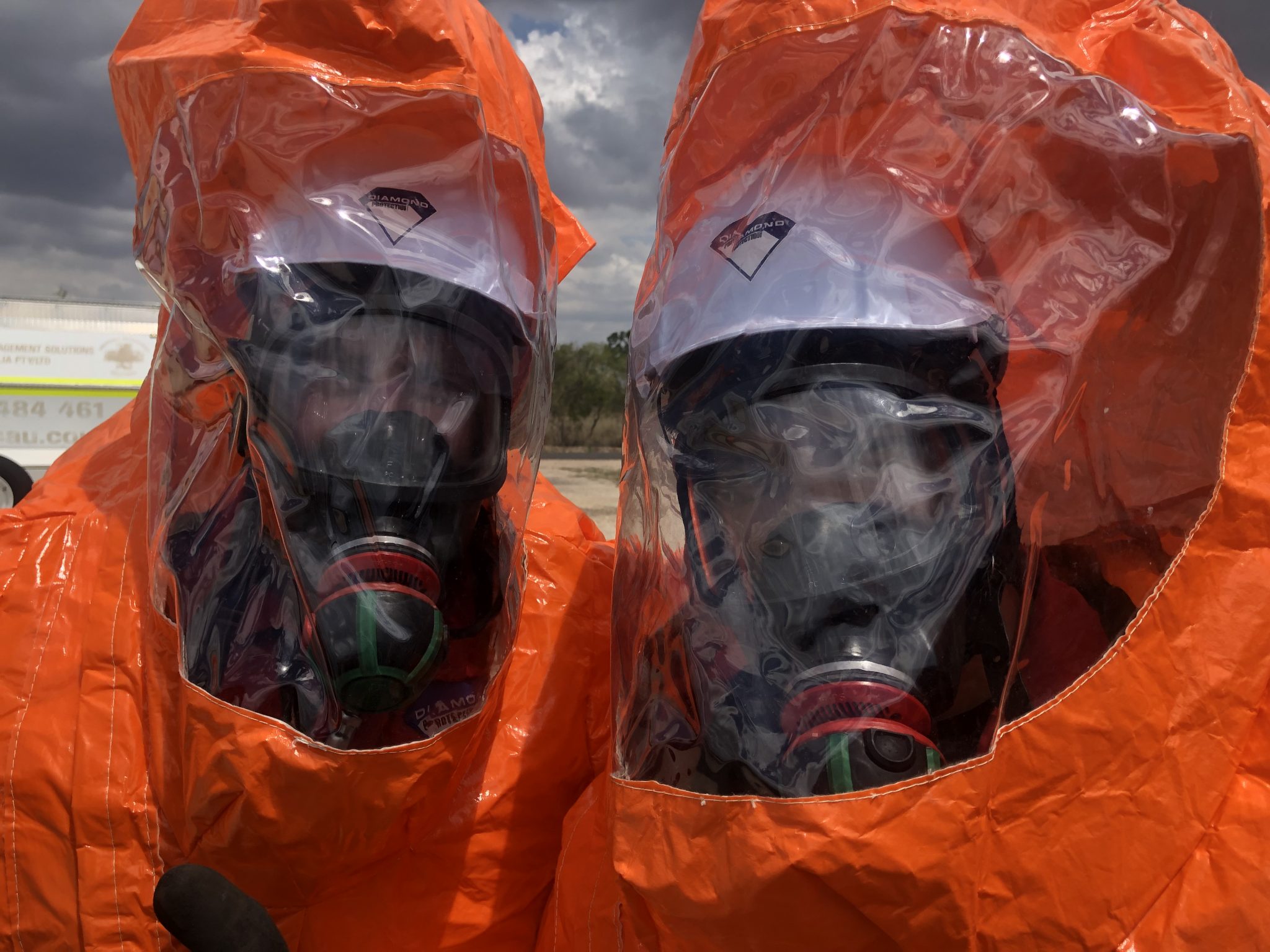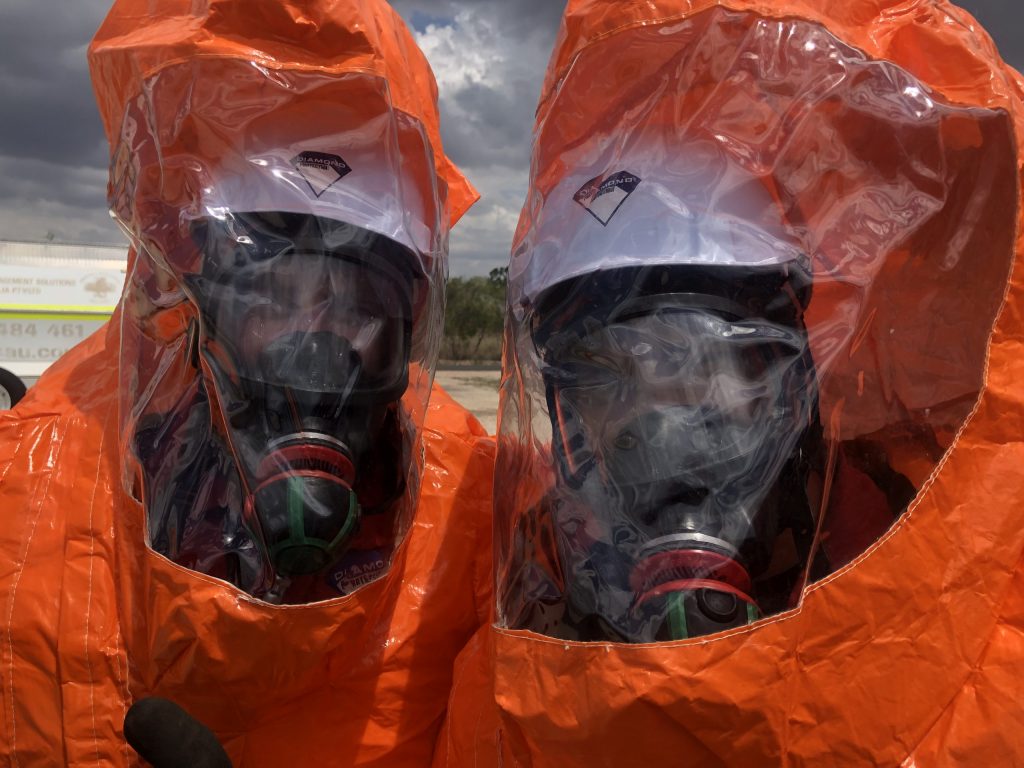 Outline of the Hazmat Safety Training Course
Our hazmat safety training course covers the following main elements:
an outline of relevant hazchem and dangerous goods legislation
being able to recognise incidents involving hazardous materials
identifying, assessing and handling the hazards they represent
assisting with the development and implementation of a plan to mitigate hazmat incidents by containing and recovering hazardous materials
helping to review the plan
following protocols and procedures for responding to incidents
having the ability to select, put on and test personal protective equipment
the establishment of hazard control and decontamination zones
decontamination and rescue procedures.
Participants for the course should be eighteen years old or over, have reasonable literacy, numeracy and communications skills with the ability to read and write in English. They should be suitably attired for practical exercises, wearing long trousers and full shoes, and be sufficiently clean shaven so they can wear breathing apparatus.
Outcomes of the Hazmat Response Training Course
The course covers all aspects of hazmat safety, including hazmat fire training where appropriate. For group training, we can customise the course to cover the particular needs of your company or site so it is more relevant to everyone who attends.
Those who successfully complete the course will be given a Statement of Attainment that is nationally recognised under the Australian Qualifications Framework. Depending on the course content, it may include the following national units of competency:
PUAFIR324 – Render Hazardous Materials Safe
PUAFIR306 – Identify, Detect and Monitor Hazardous Materials at an Incident
PUAFIR308 – Employ Personal Protection at a Hazardous Materials Incident
PUAFIR210 – Prevent Injury
On successful completion of the course, participants will have the skills and knowledge to be able to deal with incidents involving hazardous materials in a safe and competent manner. They'll know how to assess all incidents, respond to them adequately using the necessary equipment and ensure everything is made safe. As a result, your site will be a much less hazardous and a safer place and you'll fulfil your duty of care as an employer.
Incidents involving hazardous materials can have devastating consequences for your company, the people who work in it and the local community. These effects will be immediate and can also be long-term so they put the future of your business in doubt by harming its reputation as well as its ability to trade. Because of this, you can't afford to take any risks and so having a fully trained workforce is essential for any responsible company. You can trust our registered training organisation in Australia to do it for you.
You might be also interested in our work safely at heights course. Rich out for more information or book your training today! Read Less