COURSE CALENDAR
Location: DPT National Tactical Training Centre, Chinchilla QLD 4413
| | | | | |
| --- | --- | --- | --- | --- |
| Name | Course Start Date | Course End Date | Cost | |
NATIONAL UNITS OF COMPETENCY
PUAEQU001 – Prepare, maintain and test response equipment
PUAFIR203 – Respond to urban fire
PUAFIR302 – Suppress urban fire
PUAFIR309 – Operate pumps
PUAVEH001 – Drive vehicles under operational conditions
PUAWHS002 – Maintain safety at an incident scene
Live Fire Training in Australia
Diamond Protection Training RTO No. 32273 provides nationally accredited Live Fire Training. Training can be conducted on your site or at our National Tactical Training Centre in Chinchilla Queensland Australia.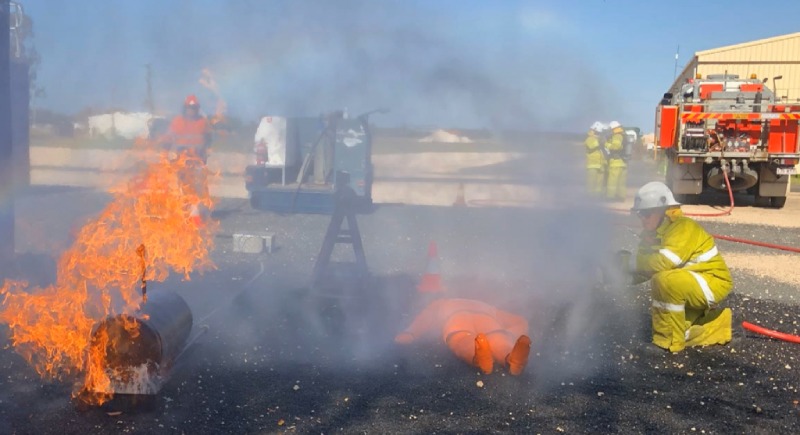 Are You in Need of a Live Fire Training Course for Your Team?
When it comes to preparing for the reality of firefighting, nothing comes as close to the experience as live fire training, which is why it is important to work with a registered training provider in Australia who understands the importance and the potential dangers of the undertaking. We here at Diamond Protection Training have been providing training courses covering multiple areas of emergency deployment for almost two decades and have worked with some of the biggest companies in the world. Don't just take our word for it though. Get in touch with us today and find out for yourself why we are one of the most trusted and effective training course providers in Australia.
What Should Live Fire Training Include?
Other than covering the main aspects of tackling a fire in the field, which we will cover below, the main priority of a live fire training course should be ensuring the safety of every participant. There should be no danger of injury or loss of life, and it is the responsibility of the training providers, such as us here at Diamond Protection Training, to ensure that the course is safely designed to ensure this. Every one of our courses is not only designed to ensure maximum safety, but is also designed to promote collaboration, therefore boosting the feeling of security that each participant will feeling, knowing that their voice will be heard.
So, what should a live fire training course cover? At Diamond Protection Training, all of our training courses are specialised to each client, ensuring that we cover exactly what you need us to cover for your team. However, here are the main areas of a live fire training exercise that we aim to delve into in each session:
Forcible entry. Some situations will require you and your team to force your way into a building, which is why we aim to ensure that this area is covered in training, including how to do it in a way that doesn't cause you harm or worsen the fire.
An important aspect of fire fighting is ensuring that the affected building or area is properly ventilated, to remove the threat of smoke inhalation for your team and anyone else stuck inside the blaze. There are a few ways we can practice this with you, all of which will be discussed during our initial contact.
Search and rescue. In this scenario, we will use manikins to give your team the opportunity to practice saving any casualties stuck in the building.
There are a number of possible avenues to practice this aspect, whether it be bringing a survivor down from a higher floor on a ladder or by elevating a member of your team to use a hose on the upper levels of the building.
Fire attack. It is here that the knowledge and expertise we have acquired is key. Fighting a fire is one of, if not the main component of being a firefighter, therefore it is crucial to give your team every opportunity to practice it, and to do so safely. Read More
When Can I Get Started With My Live Fire Training?
If you have chosen to use Diamond Protection Training for your live fire training course needs, then we couldn't be more excited to welcome you to the team! Just give us a call on 07-4665 5785 or email us at bookings@diamondprotection.com and one of our friendly members of staff will be in touch with you to get you started as soon as possible.
You might be also interested in our Certificate III in Public Safety course. Rich out for more information or book your training today! Read Less